Jeb the badS Kerbal
Guild Count: N/A
Vote Count: 1
Library: Other
Created By:
Henrikkoh#3344
He's smiling like he always does.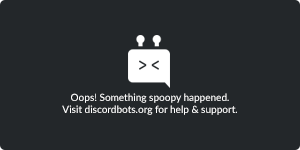 Jeb bot by Hk.
Prefix is #
Jeb bot by Hk.
Now at version 1.1! Do #updates for update log.
✅ Online most of the time.
✅New commands added regularly!
✅New major updates once a month or more
Curently in development. Fun and random Jebediah Kerman bot. With many functions and capabilities, such as levelling, moderation, fun and special tools such as a flare system (see features below). Plus some fun commands, such as #opinion. More general Commands coming up. For custom commands, simply add bot to server and DM me details.
You can contact me by sending a friend request on Discord (Henrikkoh#3344) or through email: [email protected]. Support server will be made, allowing for ease of contact.
#jebhelp for main help menu.
Have fun piloting SSTOs with him;)
Features and capabilities:
-⬆️Levelling up system, with a basic leaderboard and customisable rank card(coming soon). Can be enabled or disabled. Use #jebhelp levelling for commands.⬆️
-😂Many fun features, such as Rock Paper Scissors game, blur,eject etc. commands and also a bruh auroresponder, which replies with bruh when someone says bruh:) Can be toggled on or off. #jebhelp fun for fun commands.😂
-⭐A unique flare system. When a member sends a flare using #flare during an issue that requires staff involvement, the bot DMs the selected users (staff or mods), which alerts them to the situation, with dm message having flare reason and message link. Ideal as a replacement for pinging staff. Use #jebhelp special for more info.⭐
-🔨Full Moderation features with logging will be fully implemented soon, and with side features such as a 3-strike system for offences. Currently only role adding and removal are available, but as said more will be added soon. Use #jebhelp mod for commands.🔨
Help menu❔:
Rank card⬆️
Bot Reviews
Total Reviews: 0 | Average: 0 / 5